Crews in Vermont are assessing the damage after a storm dumped up to two months of rain on the state in a matter of days, triggering dangerous flash floods that submerged homes.
The state's governor said there had been "historic and catastrophic" flooding. Some areas saw more than 9in (0.22m) of rain.
In the capital city, Montpelier, crews are beginning to clear debris and inspect buildings.
More rain is expected later this week.
People in Montpelier as well as nearby Berlin have been told to boil their water, amid concerns that the flooding may have contaminated drinking water.
The picture is similar elsewhere in the state, such as in the town of Ludlow, where the scale of the damage is only starting to become clear as the floodwater recedes.
"I talked to people today that said my house is gone," said Ludlow Municipal Manager Brendan McNamara. "[We] sustained catastrophic damage. We just really took the brunt of the storm."
A freight track on the Green Mountain Railroad that runs through the town was left dangling in the sky after the floods carved a deep gorge underneath it.
A spokesperson for the Vermont Rail System told the BBC's US partner CBS News that operations had been "temporarily suspended" due to "a washout".
Andrew Molen, the co-owner of a restaurant in the town, told the outlet that the flooding there was "devastating" and his business was in a mess.
"We lost bridges, we lost roads, cars went down rivers, the power, there was such force it was moving dumpsters that were full," he said.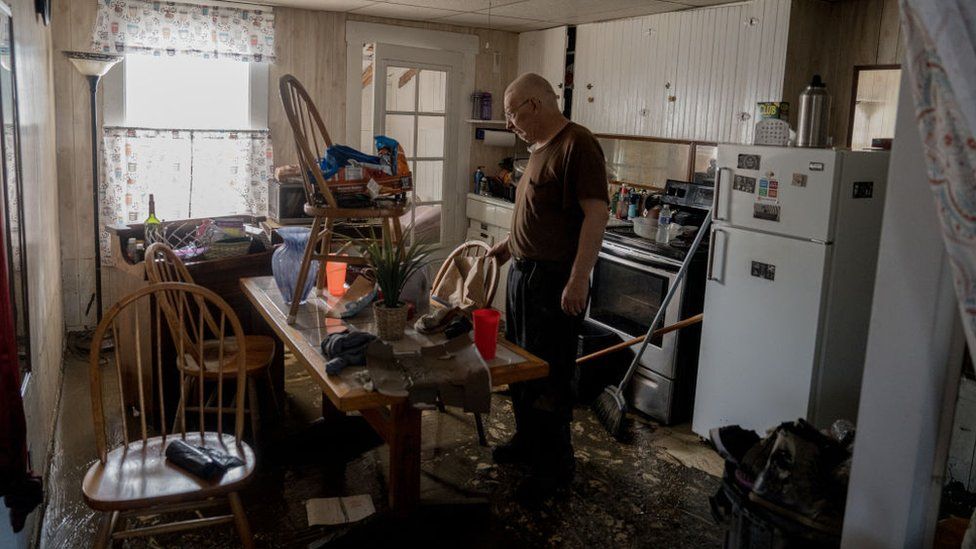 Vermont's commissioner of public safety, Jennifer Morrison, told CNN on Wednesday more than 200 people have been rescued and over 100 evacuations had been performed. She called the situation "an absolute crisis" that could take years – potentially even a decade – to repair.
There had been concerns about several dams in the state as they neared capacity, but on Tuesday night Montpelier officials said the Wrightsville Dam was "beginning to recede" and both major rivers were "now below flood stage".
"It looks like [the dam] won't breach. That is good. That is one less thing we have to have on our front burner," Montpelier Town Manager Bill Fraser said.
An emergency order was lifted on Tuesday in the city even as some streets remained underwater after the Winooski River burst its banks.
But Governor Phil Scott urged caution over the coming days.
"We expect more rain later this week which will have nowhere to go in the over-saturated ground," he said. "We're not out of the woods – this is nowhere near over."
He added that the deluge in some parts of the state had surpassed that seen during Tropical Storm Irene in 2011, which killed six people in Vermont.
Kelly Tackett, who owns the Minikin children's store in Montpelier, was unable to get through the floodwaters on Tuesday to check on her deluged business.
But upon seeing pictures of the ruined premises taken by a photojournalist she said she was in tears and feared her business may not recover.
"This was my lifelong dream shop," she told the Burlington Free Press.
The National Weather Service forecasts more rain for Thursday and Friday in Vermont, but no more torrential downpours.
Flood watches remain in effect for parts of New York, Massachusetts, Maine, New Hampshire and Connecticut.
In New York state, which has also seen some of the worst flooding in years, a woman named by authorities as Pamela Nugent, 43, died in Orange County after she was swept away while trying to flee her home with her dog. 
Homes, businesses and roads were significantly damaged in the county.
Many factors contribute to flooding, but a warming atmosphere caused by climate change makes extreme rainfall more likely.
The world has already warmed by about 1.1C since the industrial era began and temperatures will keep rising unless governments around the world make steep cuts to emissions.
Source: BBC