Energy providers are warning Americans to be frugal with air-conditioning this weekend, as intense heat and increased demand could lead to blackouts.
Nearly 200 million Americans are under "dangerously hot conditions" alerts with temperatures expected to soar past 100F (38C) in several major cities.
The country's biggest power grid declared a level one energy emergency alert.
July is expected to be Earth's hottest month since record keeping began.
PJM Interconnection, the company in charge of power supply in 13 states and Washington DC, warned that "extreme heat and/or humidity may cause capacity problems on the grid".
"Temperatures are expected to go above 90F (32°C) across the footprint, which drives up the demand for electricity," the company said in a statement.
In New York, where the heat index is expected to climb as high as 110F, energy provider Con Edison is telling residents to reduce energy usage at home to help avert shutoffs.
"Intense heat and increased demand for air conditioning can cause strain on the electric system and may lead to localised outages," the company said in a statement.
The city is keeping swimming pools open longer and pointing New Yorkers to dozens of cooling centres for those without air-conditioning.
Grid operators across the country declared hot weather alerts this week and told energy companies to put off unnecessary maintenance so all available generating plants and power lines would be ready for service.
According to the most recent results from the 2020 Residential Energy Consumption Survey, 88% of US households use air conditioning.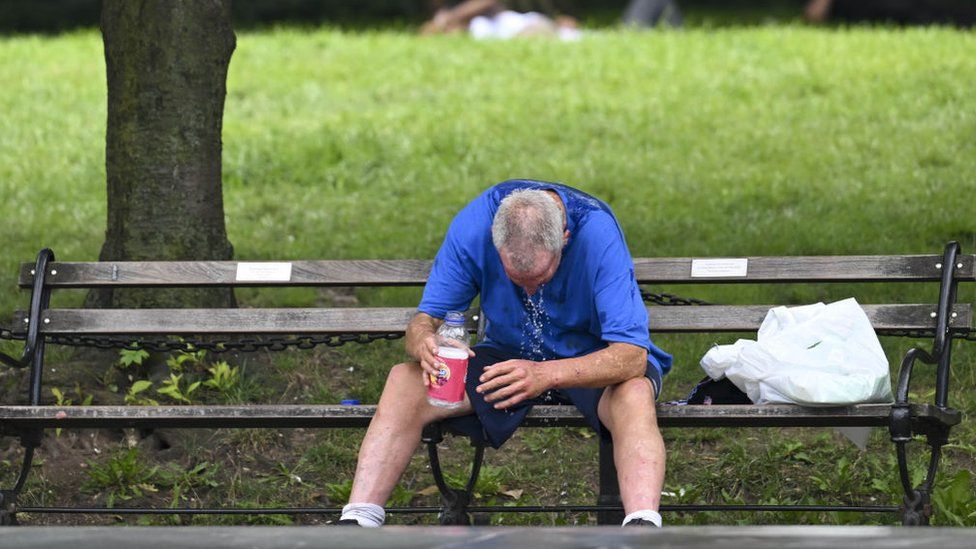 The National Weather Service (NWS) has warned that the sweltering heat will "engulf much of the eastern half of the US".
Weekend could bring the hottest days of summer so far for millions of people from coastal Virginia through Washington DC, where heat indexes are also expected to surpass 110F.
Many places are set to surpass their temperature records for daytime highs as well as warm night time lows through Saturday morning, the NWS said.
The southern US has already been baking under sweltering heat this past month. On Thursday, the city of Phoenix, Arizona marked the most consecutive days per year – 15 – with temperatures above 115F. It was also the city's 28th day in a row with a temperature of at least 110°F, well past the previous record of 18 days set in 1974.
On top of the heat, parts of the Midwest face a threat of flash flooding from severe thunderstorms that are expected over parts of the Great Lakes into the Mid-Missouri Valley, according to the NWS.
There are a number of steps to take to stay safe in extreme heat, including drinking lots of water, staying indoors or in the shade, using fans and ice cold showers to cool off, experts say.
The Biden administration announced a number of measures this week to try to tackle the extreme temperatures hitting the US, including protections for workers who are the most vulnerable to heat.
Human-induced climate change has made heatwaves more frequent, more intense and longer-lasting. In the US, an estimated 702 people each year die from heat-induced illnesses.
Source: BBC