Numerous attacks have been repelled in the area of eastern Donetsk over the last 24 hours, Ukraine's military says.
Russian forces claim they are about to take the eastern city of Bakhmut – the focus of intense fighting for many months.
The head of Russia's Wagner private army claims it is "practically encircled" with limited routes out.
The deputy mayor of the city told the BBC there was street fighting between Russian and Ukrainian forces.
But Oleksandr Marchenko said Russia was not yet in control, despite constant shelling.
"They have no goal to save the city… their only goal is killing people and the genocide of the Ukrainian people," Mr Marchenko told the Today programme.
The UK Ministry of Defence said Bakhmut is under "increasingly severe" pressure.
According to the UK intelligence, Russian forces and Wagner troops have made further advances into northern suburbs, making the Ukraine-held section of the city vulnerable to Russian attacks on three sides.
The commander of Ukraine's ground forces, Col Gen Oleksandr Syrskyi, visited Bakhmut on Friday for meetings with local commanders on how to bolster front-line forces.
Meanwhile on Saturday, Russian defence minister Sergei Shoigu made a rare visit to Russian-held Ukrainian territory in southern Donetsk.
Russian troops have been trying to take Bakhmut for over six months.
Ukraine's President Volodymyr Zelensky warned this week that the situation on the eastern front line was becoming "more and more difficult".
A key concern for Ukraine is its ever-decreasing ammunition stocks as the high-intensity war with Russia shows no sign of slowing.
The US has announced a further $400m (£333m) in military aid to boost Kyiv's depleted ammunition stocks.
US Secretary of State Antony Blinken said the country's latest package included high-precision Himars artillery rockets and howitzers "which Ukraine is using so effectively".
President Zelensky earlier stressed that artillery and shells were needed to "stop Russia". The US is also sending tactical bridges ahead of Ukraine's expected offensive.
The delivery of such equipment – allowing armoured vehicles to cross rivers and ditches – comes as Ukrainian military officials and experts have suggested the offensive could begin in the coming weeks.
In a statement on Friday, Mr Blinken said: "This military assistance package includes more ammunition for US-provided Himars and howitzers, which Ukraine is using so effectively to defend itself".
He added that Washington would also be sending "ammunition for Bradley Infantry Fighting Vehicles, Armoured Vehicle Launched Bridges, demolitions munitions and equipment, and other maintenance, training and support".
Himars proved to be extremely effective during Ukraine's lightning counter-offensive late last year that saw almost the whole of the Kharkiv region brought back under Kyiv's control.
Those advances – and the liberation of the southern city of Kherson – were the most significant front-line changes since Russia withdrew from areas around Kyiv in April.
In his statement, America's top diplomat stressed that "the United States also continues to rally the world to support Ukraine" in defending its sovereignty and territorial integrity.
The new US military aid package was announced amid reports in US media that Ukraine may now be running dangerously low on artillery stocks after more than a year since Russia launched its full-scale invasion.
Both Ukraine and Russia are believed to be firing tens of thousands of artillery shells every day in what is seen as a high-intensity war of attrition in recent months.
Ukraine's military have not publicly commented on the reported shortage of ammunition. However, President Zelensky on Thursday said that "artillery is number one that we need".
He added that Kyiv also needed "a large quantity of shells" and war planes to "expel" Russian troops from Ukraine's territory.
Military assistance to Ukraine was expected to dominate the agenda as US President Joe Biden met German Chancellor Olaf Scholz in Washington on Friday.
Mr Biden thanked the German leader for his country's "profound" support of Ukraine.
A number of Ukraine's Western allies have pledged to deliver tanks and artillery – but Kyiv says this must be done much faster to deter further Russian aggression.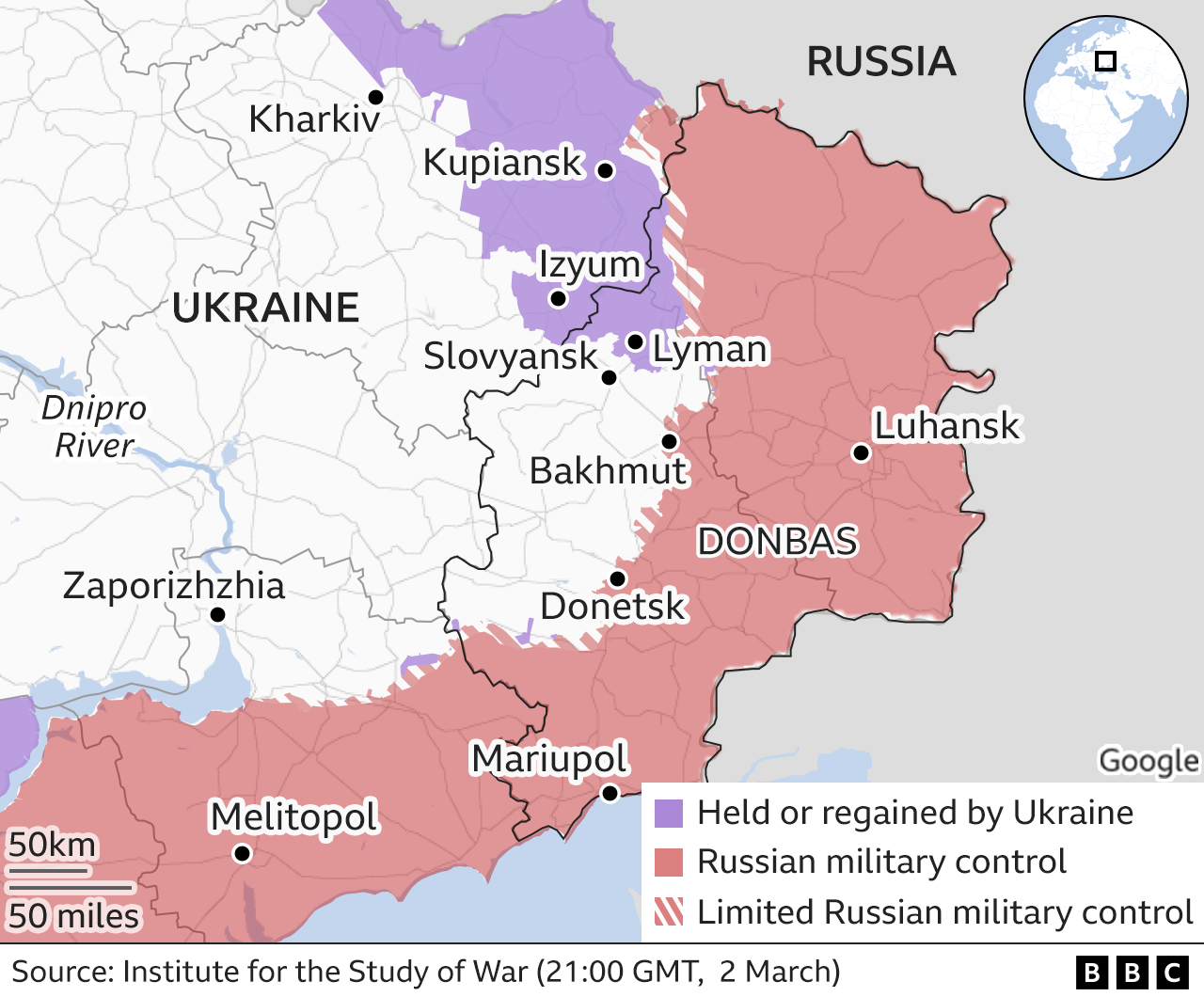 Source: British Broadcasting Corporation