World Athletics Heritage is delighted to honour the life and career of Juan Carlos Zabala, the 1932 Olympic marathon champion, with a World Athletics Heritage Plaque. Zabala, who at 20 years 301 days remains the youngest ever winner of an Olympic marathon, is the first Argentinian athlete to be recognised with the award.
The plaque was unveiled today at the 'Colonia Ricardo Gutierrez' in Marcos Paz, 60km away from Buenos Aires, where the orphan Zabala spent his childhood. Among the distinguished guests assembled for the ceremony were members of Zabala's family, including his two daughters Magdalena and Ana Maria, and one of his grandsons.
The son of Delfo Cabrera, Argentinia's 1948 Olympic marathon champion who is also named Delfo, was also present. Both Zabala's and Cabrera's Olympic victories came on 7 August. Another very special guest at the ceremony was USA's Frank Shorter, the 1972 Olympic marathon gold and 1976 silver medallist.
"On behalf of Atletismo Sudamericano, I am proud to salute the memory of Juan Carlos Zabala, South America's first Olympic athletics gold medallist," commented the president of the area federation Helio Marinho Gesta de Melo. "As his biography – 'Zabala, el campeón excepcional', written by Rubén Aguilera, Eduardo Biscayart and Luis Vinker, and published by the Argentine Athletics Confederation – recounts, the life of the 1932 Olympic marathon champion was a complex one.
"Zabala was a precocious talent who, to this day, is the youngest ever Olympic gold medallist at the classic distance of 26.2 miles. He rebounded from the loss of his parents to win the ultimate glory of the Olympic laurels. Yet his life largely remains a mystery.
"Zabala is without doubt a 'Legend' and I am delighted that he has been honoured by the award of the World Athletics Heritage Plaque in that category," added De Melo.
"It represents a great pride for the Colonia Gutiérrez, and its history, to be the chosen place to receive the plaque from World Athletics that remembers the life and sports achievements of Juan Carlos Zabala, who in this land and in this track built his way to the maximum honour that any athlete could dream of: the Olympic gold medal," said Juan Torga, Director of Espacio 'Colonia Ricardo Gutiérrez'.
The World Athletics Heritage Plaque is a location-based recognition, awarded for an outstanding contribution to the worldwide history and development of the sport of track and field athletics and of out-of-stadia athletics disciplines such as cross country, mountain, road, trail and ultra-running, and race walking.
Present at the unveiling today were Juan Scarpin, Director of Development of South American Athletics, Argentina, Daniel Sotto, President of the Argentine Confederation; Julian Peralta, President of the Buenos Aires Province Federation, and Daniel Diaz, Director of the Enard (National Entity of Sports High Performance).
Representing the Municipality of Marcos Paz were Ricardo Curutchet, Major, Maria Isabel Dominguez, Secretary of Human Development, Maria Eugenia Hernandez, Director of the Subsecretary of Sports Development, Juan Francisco Achucarro, Director of Competitive Sports, and Dario Gomez, Director of Social Sports.
Also attending were German Lauro, Manager of the Argentine Confederation, shot finalist at the 2012 Olympic Games, and 2013 & 2015 World Athletics Championships, and Ruben Aguilera, journalist, and co-author of Zabala's biography.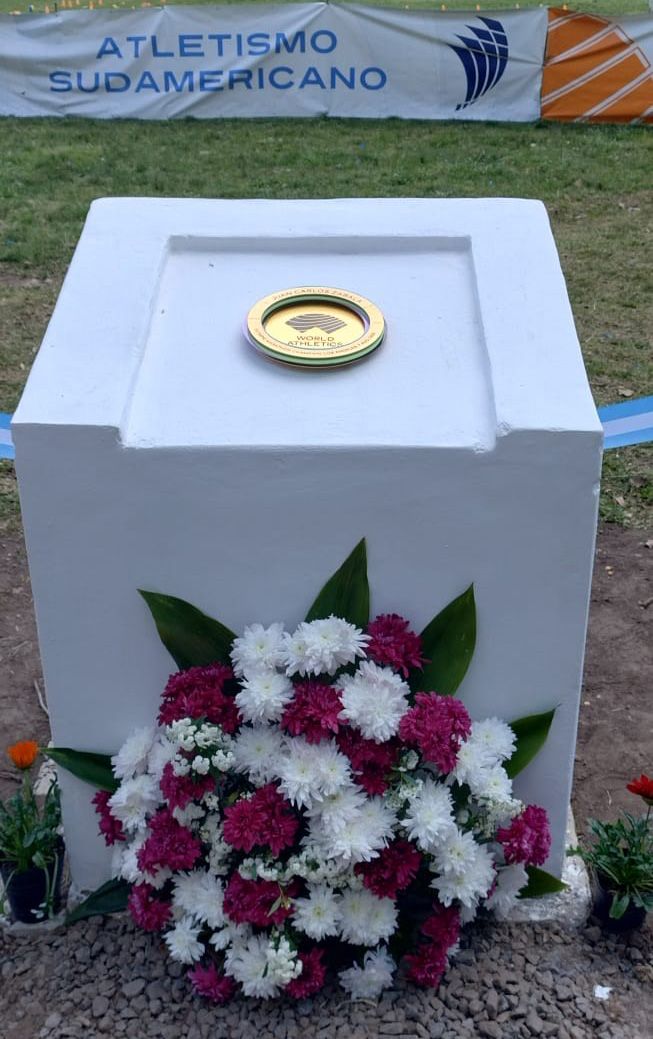 Juan Carlos Zabala – the champion without glory
Zabala reached the glory of winning the first Olympic gold medal in athletics for South America. His life was filled with difficulties, portraying a powerful story of achievements and resilience. Yet, it seems that he was never able to fully enjoy his ultimate running triumph which he attained on the roads of Los Angeles.
The early years of his life are part of a mystery that, even now, remain unsolved. The date of his birth has never been certified, as well as certain information about his parents, who died when he was an infant. The documents known cite 21 September 1911 as the date and Buenos Aires as the city. However, other versions mention 11 October 1911 (or even 1912) and Rosario as the city.
Zabala ended up at the 'Colonia Gutiérrez' brought by the Buenos Aires Police on 16 January 1921, according to the historical records of the Colonia. By then he was an orphan without any family or guardian, very likely living in the streets of the Argentine capital. Later, in his adult life, Zabala used to claim that he lived off and on with his godfather, Doctor Agustín Cabal, a public defender of minors. Doctor Cabal's name is mentioned in those documents, but they don't specify that he was his guardian or his godfather.
Sandra Jaca, who worked at the 'Colonia' from 1991 to 2015, as a teacher, coordinator of activities and therapist, from her experiences at the 'Colonia', gave her theories about Zabala's mysterious early years. "Sometimes children or young adults who have been in vulnerable situations develop the tendency to imagine situations, or fantasise about their own stories, as a way to protect themselves," she says. That could have been the reason for Zabala's projection of Doctor Cabal as his guardian.
Sterling's pupil
At the Colonia, Zabala benefitted from the change produced by the director in the early 1920s, José Amatuzzo, who decided to turn the place into a more human institution. Amatuzzo decided to change the Colonia, which was initially created as reformatory into a source of hope, education, and professional skills.
Sports were part of that change. A 400m track was built in 1925 and a physical education teacher was brought to work with the children on that year. That man was Austrian Alexander Stirling, a former high jump and pole vault specialist.
Stirling became Zabala's first coach in those years and formed him as a runner, even though his athletics knowledge came from jumping events. Zabala went on to win the national titles at 3000m and 5000m in 1929 and 1930.
30,000m world record
In 1931, at his second South American Championships, he won the gold at 10,000m, setting a South American record of 31:19.0 in Buenos Aires. That performance and Zabala's progression made Stirling think that his pupil was ready for something larger. The Austrian projected a European tour at the second part of the year that ended up being a great success.
Zabala arrived in Europe in September and, quickly after settling in, competed in a 10,000m race in Berlin against the great Paavo Nurmi, who won the event in 31:19.1. Zabala finished third in 31:44.8.
On 10 October, Zabala showed why Stirling had decided to bring him to Europe, setting a world record for 30,000m in Vienna (1:42:30.4). Eighteen days later he competed in his first marathon in Kosiče, winning in 2:33:19, the best time in the world that year.
In 1932, Zabala improved the South American record at 5000m (14:55.4/5) on 30 April in Buenos Aires. A couple of days later, Stirling and Zabala travelled to the US to prepare for the Olympics. After the boat trip to New York, Zabala competed in races in New York, Chicago, and Los Angeles.
In the Californian city, Zabala even took part of the Los Angeles Times Marathon, 43 days prior to the Olympic race. The event became a negative experience, as Zabala set off at a fast pace and eventually pulled out after mile 20, exhausted and with severe blisters on his feet.
A wild fight to the finish
His Olympic triumph happened on 8 August. He won the Olympic laurels after a great fight with Great Britain's Duncan Wright and Samuel Ferris, Finns Lauri Virtanen and Armas Toivonen, Japan's Seiichiro Tsuda and Onbay Kin, and Albert 'Whitey' Michelsen from the US.
Los Angeles Times' Braven Dyer's described the race well.
"At the end of nineteen miles, Virtanen was leading the field by a good 300 yards. Toivonen was striding along and had a slight edge on Wright. (Seiichiro) Tsuda (Japan), (Samuel) Ferris (Great Britain) and (Albert 'Whitey') Michelsen (USA) followed about half a mile to the rear.
"Wright suddenly went wild and forged into first place at the twenty-mile mark. Zabala, however, had kept his hold on second place by passing Virtanen, who was slowing up. Toivonen was third, with Virtanen fourth.
"From the rear of the race came a flash of white. Press cars waited to see who it was. Americans hoped for Michelsen. But it was Ferris, the pink cheeked Britisher, burning up the pavement with strides that would have made Ben Eastman proud.
"Tsuda, the valiant little Japanese, was tiring but held his position at sixth. He even had enough stuff remaining to pass up Virtanen. A few minutes later he took fifth.
"As the boys turned north off Slauson on to Normandie, Zabala passed Wright. It looked as if the finish in the stadium would be a wow for all four leaders were within seventy-five yards of each other – Toivonen was third with Ferris coming fast in fourth.
"Tsuda was a good fifth with Kin and Michelsen battling for sixth. (Onbay) Kin, Korean boy competing for Japan, was running well, and appeared to have an edge on 'Whitey'.
"The last two miles into the stadium was a wild fight. Zabala fought to hold his lead, while the other three called upon every muscle to hold the terrific pace and even pass Juan. However, the Argentine held his place all the way and even added a few yards."
Zabala won in an Olympic record of 2:31:36, ahead of Ferris (2:31:55) and Toivonen (2:32:12), becoming the youngest man ever to win the distance at the Games at 20 years and 301 days of age.
A second world record
Upon his return to Argentina, Zabala became the centre of controversy. He was suspended in 1933. After completing the punishment, he competed briefly in 1933-4 in the US and Brazil. Then he was also suspended in 1934, only coming back to competition in 1935 after travelling to Germany. In 1933 he also split from Stirling.
Zabala seemed to regain his form in 1936, coached in Germany by Arthur Lambert. On 19 April, at Heinrich Zisch Stadion in Munich, Zabala captured his second world record, this time at 20,000m with 1:04:00.2, erasing the previous mark of 1:04.29.0 set by Nurmi in Stockholm six years prior.
On 21 May Zabala bettered the South American 10,000m mark in Stuttgart with 30:56.2. With his confidence restored, Zabala headed to the Olympic Games in Berlin with ambition.
He finished a distant sixth in the 10,000m (31:22.0) on 2 August, and a week later he started the marathon. But another quick pace (1:11:19 at the half) left Zabala in poor condition for the second half of the race and he withdrew after 31km when he was no longer the leader. Japan's Kitei Son won in an Olympic record of 2:29:12.9.
Zabala retired soon after Berlin, and in the early 1940s he married Magdalena Lafrancone (1913-1996). The couple had three children: Juan Carlos (born in 1943), Ana María (born in 1947) and Magdalena (born in 1952).
In 1948, also on 8 August, fellow Argentine Delfo Cabrera won the Olympic marathon at the London Games, following Zabala's feat. In 1952 another Argentine, Reinaldo Gorno, was second in the Olympic marathon in Helsinki, coached by Alexander Stirling. Along with the 1924 triple jump silver of Luis Brunetto, Noemí Simonetto's silver in the long jump in 1948, they are the only Olympic medals in athletics won by Argentinians.
Despite all that he achieved, Zabala never quite gained the recognition he truly deserved, especially after overcoming so many obstacles.
He died at the San Isidro Hospital on the morning of 24 January 1983, five months after the celebration of the 50th anniversary of his victory in Los Angeles. Reports from friends say that he had fallen from a ladder white trying to trim a tree.
Sandra Jaca reflected: "Zabala's legacy remains a strong portrait of achievement, with worldwide recognition. His story is an example of how someone could, with desire and good guidance, reach great goals and find moments of deep happiness, despite coming from a difficult youth. Zabala represents a great example, without forgetting Stirling, the person who formed him."
Source: World Athletics