A demonstration held on March 9 indicates that a council vote to remove a controversial memorial to Red Army soldiers in Sofia may be easier said than done.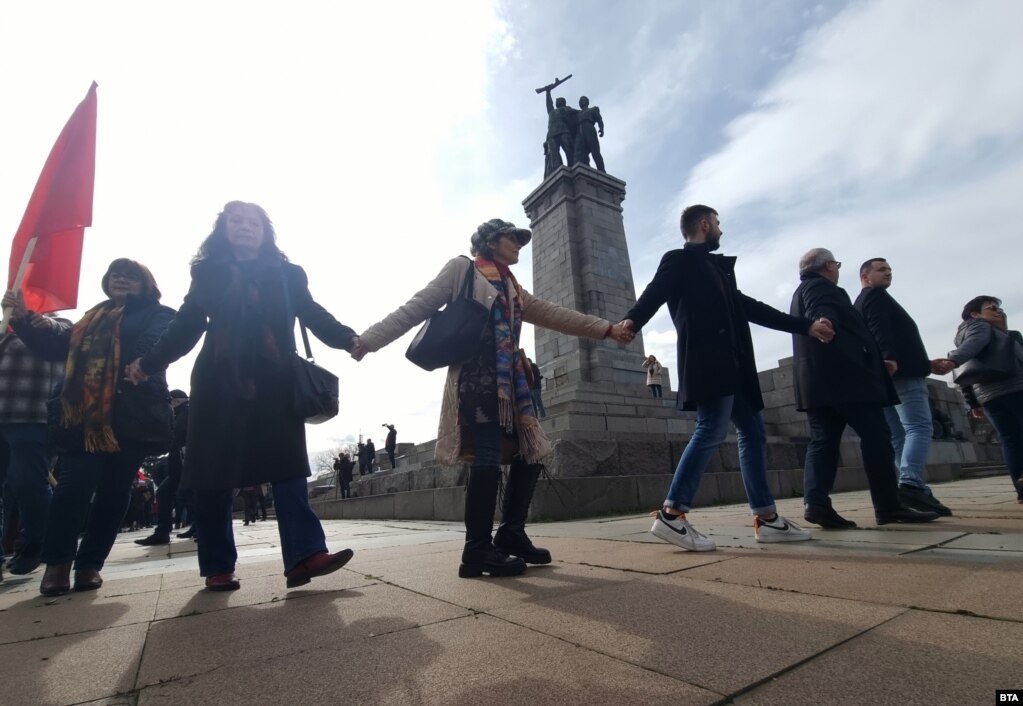 1. These protesters gathered around Sofia's Monument to the Soviet Army on March 9 as the municipal council held a vote on whether to remove the landmark from the center of the Bulgarian capital.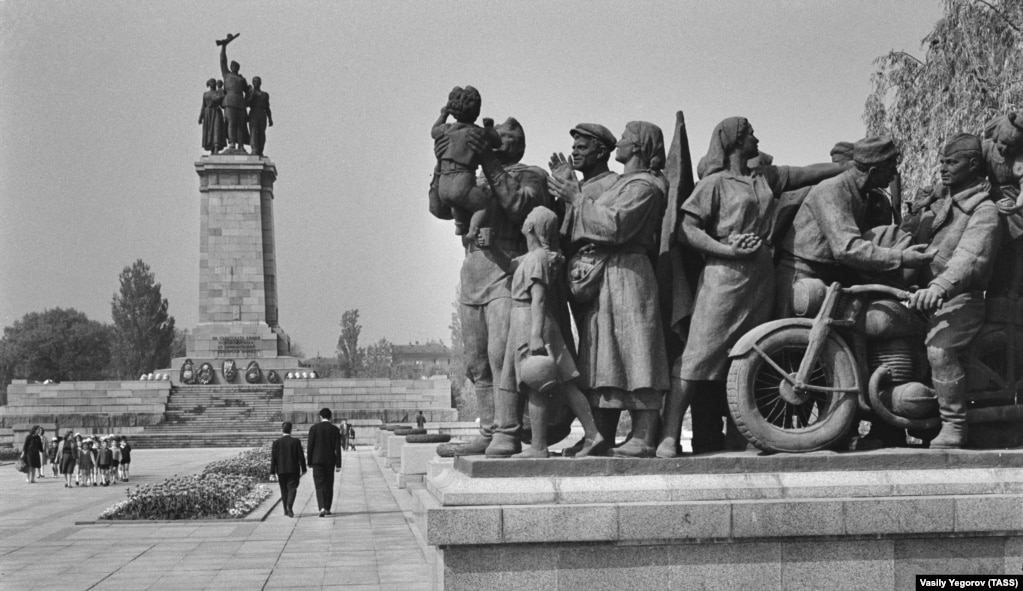 2. The monument, photographed here in 1970, was installed in 1954 and featured a controversial dedication that read: "To the Soviet Army liberators – from the grateful people of Bulgaria."
That inscription was smashed with a hammer in late February by a 61-year-old man who was protesting Russia's invasion of Ukraine.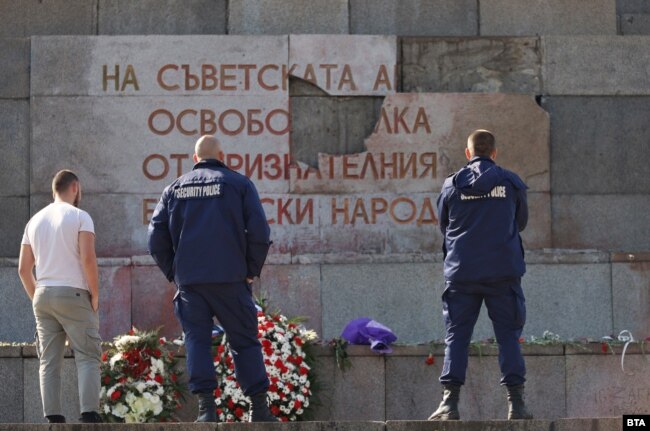 3. The severe damage to the monument reignited discussion in Sofia's local government over whether the often-vandalized monument should remain.
Many other European countries have removed communist-era memorials amid the Kremlin's ongoing invasion of Ukraine.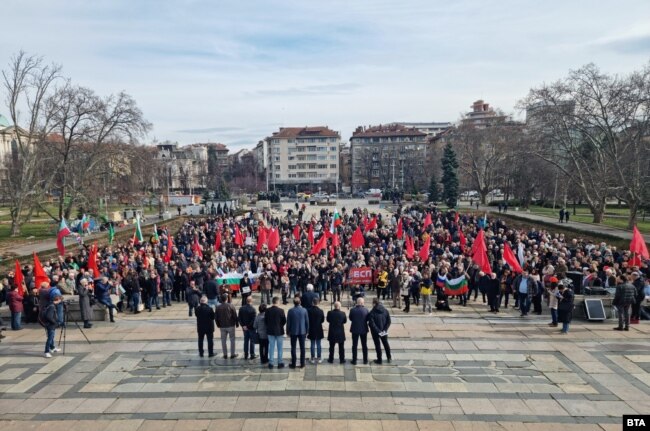 4. Speakers address the protest on March 9.
Sofia's municipal council voted 41-13, with one abstention, to remove the monument and place it in Sofia's Museum of Socialist Art or "another suitable state-owned site outside the central urban area of the city."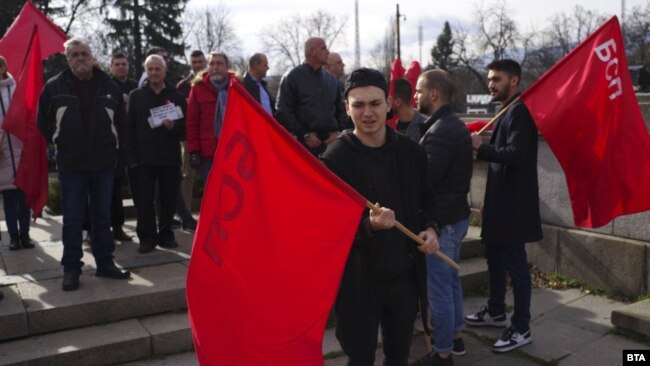 5. Many protesters in the crowd carried flags of the Bulgarian Socialist Party (BSP), which is the successor of the communist regime that ruled the country from 1946 until Bulgaria won its independence in 1989.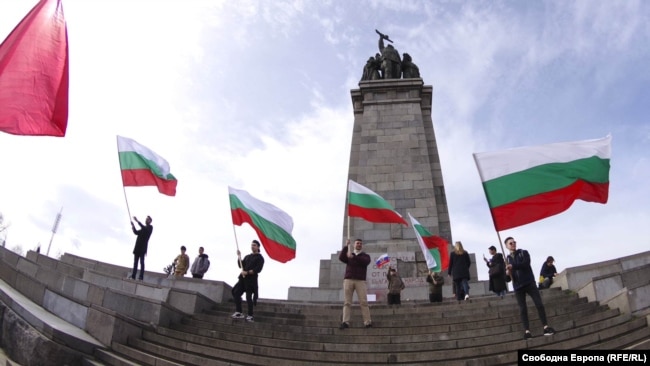 6. Protesters wave Bulgarian flags during the protest.
The Soviet memorial is the property of Bulgaria's central government, meaning Sofia's mayor still needs to make a request to the regional governor to remove the contentious landmark.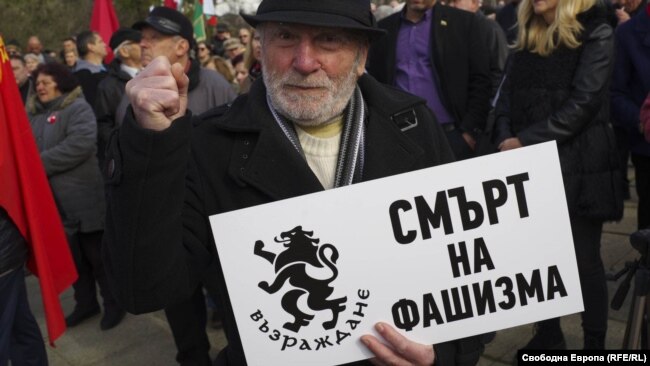 7. Yolo Denev, who ran for president of Bulgaria in 2021, holds a sign vowing "Death to Fascism" during the protest.
Bulgaria's acting Prime Minister Galab Donev said any government action on the monument should be taken after the upcoming parliamentary elections on April 2 "so the proper decision can be made in a calm environment."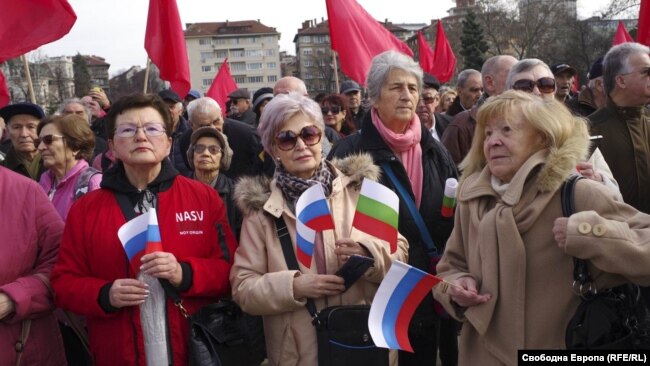 8. Protesters holding Russian and Bulgarian flags.

BSP member Borislav Gutsanov told the crowd, "Let us not allow memory to be erased," adding, "We will not allow the destruction of this monument."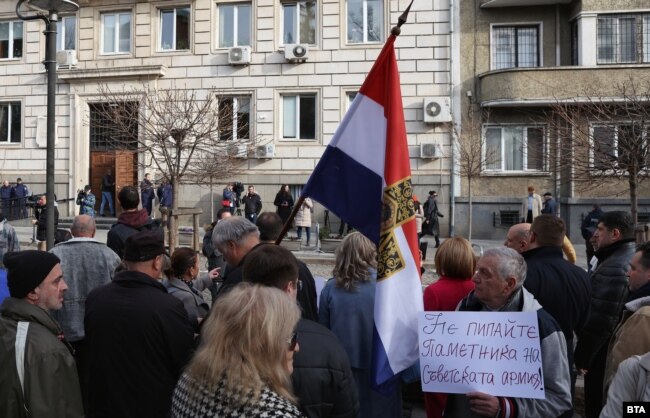 9. Protesters also gathered outside Sofia's Municipal Council on March 9. This picture shows one demonstrator holding a Samara flag, referencing the Russo-Turkish War of the 1870s, as another man displays a sign saying, "Don't touch the monument to the Soviet Army." 
During the council protest, a man threw a Ukrainian flag that had been flying from the balcony of the council building to the ground. Reactions online to the incident were largely critical, with even those against foreign flags flying from Bulgaria's official buildings saying it should have been removed respectfully.
Source: rferl.org