In a country renowned for its unique archaeological sites, stunning natural setting and welcoming people, Peru's cuisine is the coup de grâce. Peru's food and drink belong in the conversation of the world's best with their innovation and variety and are a highlight for all who visit.
And it's not all about the ceviche (but yeah, it is excellent). Visitors are treated to an impressive range of dishes, from hearty mountain fare in Cusco to fantastic seafood feasts on the coast. Peru has an embarrassment of riches regarding quality food for several reasons.
First, Peru has seen an eclectic mix of people immigrate over the years, with each having left their mark on the local food. Second, the fantastic range of climates and ecosystems, along with its long coastline along the Humboldt current, mean there is no shortage of native ingredients to work with.
The tradition starts with the ancient Andean cuisine, and in the past 500 years, Spanish, Italian, Japanese and Chinese immigrants have all added their own distinct touch. Everywhere you go, you'll find a local speciality and there's a good chance you'll love it all. Here are the 29 culinary treats and most famous food in Peru.
Meat and fish dishes
Lomo saltado
Ask a Peruvian person what their favourite dish is, and there's a very good chance they'll tell you it's lomo saltado. This stir-fry starts with thinly-sliced beef cooked in dark soy sauce and vinegar, adds onions and tomatoes and is served with rice and a side of french fries. Regional variations sometimes add chillies or other assorted vegetables.
Lomo saltado is a perfect example of the inclusivity of Peruvian cuisine. A century ago, Chinese immigrants began what's known as chifa cuisine, a fusion of local food with Chinese ingredients and cooking techniques. Since then it's become a national favourite. Seemingly every restaurant serves it, so you're sure to have many opportunities to give it a try.
For an innovative and top-quality take on lomo saltado in Lima, head to Astrid y Gastón, run by Lima native and Michelin-starred chef, Gastón Acurio.
Ceviche
Synonymous with Peruvian cuisine and the country's national dish, ceviche has taken the world by storm. This enticing dish of lime or lemon-marinated raw fish is ubiquitous along the coast, and even inland using freshwater variants. It is cut into cubes, often flavoured with peppers, and is generally served with yuca, sweet potatoes, red onion, coriander and crunchy canchitas (baked corn kernels).
Deriving from the Quechua word siwichi, meaning fresh fish, ceviche has been a local staple for centuries. There are countless ceviche spots in Lima and every other city, and the overall standard of freshness is excellent. In Lima, the ceviche served at La Mar Cevicheria is a cut above.
Another popular variety found in ceviche restaurants is jalea, which usually includes shrimp, squid and fish, lightly battered and deep-fried.
Ceviche is not limited to the coastal regions, either. In the mountains and the Amazon regions, ceviche made with trucha (trout) is quite popular. The best place to sample freshwater ceviche is the aptly-named Ceviche Seafood Kitchen in Cusco on the Plaza de Armas.
Tiradito
Another delightful Peruvian dish is their version of sashimi, tiradito. Thin cuts of fresh fish are covered in a citrusy, mild-to-spicy sauce just before serving. The most popular sauces are ají amarillo (mild yellow chilli) and rocoto (spicy red pepper).
Tiradito is the most famous creation of Nikkei cuisine, the Japanese-Peruvian fusion that's picking up Michelin stars all over the world. Perhaps the best place for an unforgettable Nikkei meal is Maido, serving dishes as supremely well-presented as they are delicious. Be sure to reserve a table well in advance.
Parihuela
While we're on the topic of seafood, you shouldn't miss a popular Lima favourite, parihuela. This seafood-based soup can include any or all of fish, crab, octopus and shellfish, in a spicy broth of ají amarillo and ají panca chillies and lemon juice.
Hundreds of restaurants serve Parihuela in Lima, and although it would be an impossible task to find the best rendition, the overall standard is high. Costazul Seafood in the Miraflores District has an enticing, extensive menu, and their parihuela does not disappoint.
Leche de tigre
If you've eaten ceviche before, you've already tasted leche de tigre! "Tiger's milk" is the typical marinade used to prepare ceviche, and is made with lime juice, white fish (commonly sea bass or sole), fish stock, yellow onion, garlic, celery, ginger, coriander and chilli paste.
This marinade has become so popular that people ask for more on the side as an accompaniment. It's commonly served in a glass with a fried plantain and shrimp garnish. It's available everywhere ceviche is served. Careful, it's addictive!
Pollo a la brasa
A close second to lomo saltado as the most popular local meal, pollo a la brasa can be found in every corner of Peru. "Braised chicken" is seasoned and grilled over a charcoal flame until blackened. It's generally eaten with mayonnaise or a spicy ají sauce of chillies, tomatoes and coriander, along with rice and french fries.
Pollo a la brasa was first made and popularised by Swiss immigrants in the 1950s, and although it was at first only served in high-end restaurants, it now makes up nearly half of the fast-food market. Originally only salt was added to the chicken, but many seasonings are now used in its preparation, including rosemary, cumin, soy and huacatay (Andean black mint).
Arroz con pato
A dish made popular in the north of Peru, arroz con pato (rice with duck) is a gut-busting portion of rice and duck (generally dark meat) cooked in a rich paste of garlic, vinegar and ají amarillo, and cooked in a reduction of either black beer or chicha de jora (a fermented yellow corn beer).
A great place to try an upscale version of the dish is Nanka, in Lima's San Isidro district, which serves the duck acevichada (marinated in leche de tigre).
Anticuchos
Most places in the world have their own version of meat skewers, and Peru is no exception. Most commonly, anticuchos are beef, but all types of meat are used in one place or another, including pork, chicken, lamb, alpaca and llama. The most famous and best-liked anticucho is beef heart marinated in vinegar, often with garlic, ají or cumin.
Anticuchos are found in many restaurants but are often enjoyed as street food. Just follow your nose – and the crowds – and you'll find what you're after. In Lima, a popular place for anticuchos is the street-side Anticuchos Manuela in the San Isidro District.
Cuy chactado
We'd be remiss for not mentioning the famous (or perhaps infamous) local speciality, guinea pig. For thousands of years, cuy was an important source of protein for Andean peoples, and they continue to be a staple from Bolivia to Southern Colombia.
Cuy can be cooked in a number of ways, the most traditional of which is chactado (fried and pressed with stones). This method involves first frying in oil until crispy while covering and pressing the meat with a heavy stone.
A great place to sample cuy chactado (and other south Peru specialities) is Quinta Eulalia, north of the Plaza de Armas in Cusco.
Rocoto relleno
Arequipa, southern Peru's largest city, has an excellent cuisine all its own. A number of its delicacies have a spicy kick, including the famous rocoto relleno (stuffed pepper).
In this dish, a spicy rocoto pepper resembling a green or red capsicum is hollowed out and filled with minced beef, chopped onions, garlic, carrots, peas and pecans. It's then baked, topped with melted cheese and served in a creamy tomato sauce.
Although rocoto relleno can be found all over Peru, it's best enjoyed in Arequipa at a picantería – a local lunchtime restaurant. An excellent dining experience can be had at Victoria Picantería Democrática, north of the Plaza de Armas. Alternatively, in Lima try La Picantería in Surquillo District.
Chupe de camarones
Another star of the Arequipeño culinary tradition, chupe de camarones is a dining experience to savour. This decadent shrimp or crayfish chowder, not unlike yellow curry, is made with a fish stock reduction enriched with tomatoes, onion, garlic, potatoes, hard-boiled eggs, cheese, rice and evaporated milk.
This hearty dish has many variations around Peru, but the original recipe is best enjoyed in an Arequipa picantería. Don't miss out on El Tío Darío in Yanahuara District, which serves up an amazing chupe de camarones. La Picantería in Lima also has an authentic version.
Adobo
On Sundays in Arequipa, families gather at their favourite picantería to eat adobo, a pork stew slow-cooked in a rich sauce of garlic and peppers. The pork is fall-off-the-bone tender, and fresh bread is served on the side to mop up the extra sauce.
A popular spot for Sunday adobo brunch is La Nueva Palomino in Yanahuara District. A reservation is recommended, as the place always fills up early.
Ají de gallina
A heart-warming favourite found all around the country, ají de gallina is chicken stew in a rich concoction of ají amarillo, garlic and red onion, thickened with nuts, bread, cheese and evaporated milk. It's usually topped with hard-boiled eggs and black olives and served with a side of rice.
Ají de gallina is a classic throughout the country, and Huáscar in Lima's Surquillo District makes an excellent version.
Shambar
The emblematic dish of Trujillo, Northern Peru's largest city, shambar is a fusion of Andean, Creole and Spanish ingredients and cooking traditions. This hearty soup has a base of wheat and several types of beans, together with at least three types of meat (chicken, ham and pork are favoured), seasoned with garlic, cumin, black pepper and ají panca.
Generally served only on Mondays, an authentic rendition of shambar can be had at Squalo's, southwest of Trujillo's Plaza de Armas. In Lima, it can be enjoyed at the well-named El Shambar in Bellavista District.
Pachamanca
Perhaps the most ancient dining experience in the Peruvian culinary repertoire, pachamanca has been prepared using the same method since the Inca ruled from Cusco. Meaning "earth-pot" in Quechua, large amounts of several ingredients are placed on hot stones, then covered in earth and grass for a couple of hours while cooked.
This is traditionally a feast for special occasions and was made with alpaca, llama, vicuña or cuy (guinea pig), with chuño (naturally freeze-dried potato) and assorted vegetables. Newer versions incorporate beef, lamb, pork and chicken.
Because Pachamanca is made for a family occasion or festival, the best way to experience it is to organise in advance through a travel agency in Cusco.
Carapulcra
Another ancient dish found in the southeast of Peru, Carapulcra uses the hot stone method of cooking for this rich stew. Although prepared with llama meat centuries ago, it is now almost always prepared with pork together with peanuts, ají panca, garlic and clove, with a side of rice, potatoes or yuca.
As with pachamanca, the preparation of carapulcra is complex and generally done for a special gathering. Local excursions including a traditional carapulcra feast can be arranged in advance from Cusco.
Juanes
In the Amazon region of Peru, recipes and cooking reflect the climate and available foodstuffs. A unique and traditional delicacy here is juanes, a combination of many ingredients wrapped and cooked in leaves. A typical jane includes rice, chicken, hard-boiled eggs, black olives and spices dipped in beaten eggs before being wrapped and cooked.
If you plan to visit Pucallpa or Iquitos in the Amazon, you'll have plenty of opportunities to tuck in. If in Lima, you can get them at El Bijao, in Lince District.
Seco
You may have noticed by now that Peruvians enjoy eating meat. Continuing in this vein, a popular meat-based dish originating in Northern Peru is seco, a slow-cooked stew with many variations. Seco, meaning "dry", refers to the cooking method of reduction, used to create its decadent base.
The most common renditions of seco are made with beef or chicken, but delicious alternatives include lamb, goat, llama, alpaca or beans with rice. A cosy traditional spot to try out a beef or lamb version is José Antonio, in the San Isidro District of Lima.
Vegetarian dishes
You may be wondering by now if every dish in Peru revolves around meat. Thankfully, Peru has a number of excellent vegetarian dishes to round out its cuisine.
Causa
One of the tastiest and most common dishes found at almost every restaurant, the causa (also called causa rellena or limeña) is Peru's unique take on the potato salad. In truth, it's more of a casserole than a salad, and the original recipe calls for yellow potato, hard-boiled egg, ají amarillo and black olives with a squeeze of lemon.
From this basic template, countless variations have been created. Seafood, like fish, prawn, octopus or spider crab is often used, and avocado is sometimes added to the mix. You will find that causas are a common accompaniment to ceviche.
In Lima, for a taste of some excellent causas, head to Puerto 260 a few blocks east of the Plaza de Armas.
Papa a la huancaína
Named after the city Huancayo, in which it was created, papa a la huancaína is a potato dish now found everywhere in Peru. This popular plate, based on the ever-popular ají amarillo, is a thick sauce over boiled potatoes and eggs. This simple classic always hits the spot any time of day.
The perfect place to try it out is at Huancahuasi, which specialises in all things Huancayo, including traditional Andean fare. It's located in La Victoria District, Lima.
A similar variation, papa a la ocopa, is popular in Arequipa and adds huacatay, Andean black mint.
Quinoa
Don't forget to eat your fill of different quinoa preparations while you're visiting Cusco. This Incan 'mother grain' is delicious, nutritious and goes well with nearly everything.
Some dishes you should include quinoa atamalada (quinoa and vegetable stew), and sopa de quinoa (quinoa soup), both perfect for warming your belly and bones on a chilly Cusco night. An inviting place to enjoy them is Organika Restaurant, a block north of the Plaza de Armas.
Solterito
Another Arequipa entry, and candidate for best salad on Earth, is solterito. This salad has an unusual collection of ingredients, combining large white corn kernels, diced cheese, tomatoes, red onion, padrón peppers, black olives, carrots, coriander, anise seeds, vinegar, lime, corn oil, and dashes of salt and black pepper.
The result is a well-balanced salad that makes a full meal. For an excellent version of solterito, try La Victoria Picanteria north of Arequipa's Plaza de Armas.
Tacu Tacu
Yet another example of Peru's eclectic fusion cuisine is tacu tacu, a rice and beans dish with African influences. Created as a way of combining leftovers, cooked beans and rice are mixed with red onion, tomato, ají amarillo, garlic, dill and oregano, pan sautéed, then pressed together into a patty and served.
A great place to sample an upscale version of tacu tacu is Panchita, in Miraflores District, Lima.
Peruvian beverages
Peru's culinary ingenuity is not limited to food. Its unique beverages have become world-famous as well.
Pisco
Peru's national spirit, pisco, is a strong brandy distilled from grapes. Produced in the southern coastal regions, it is ubiquitous in Peru and has also become a top export.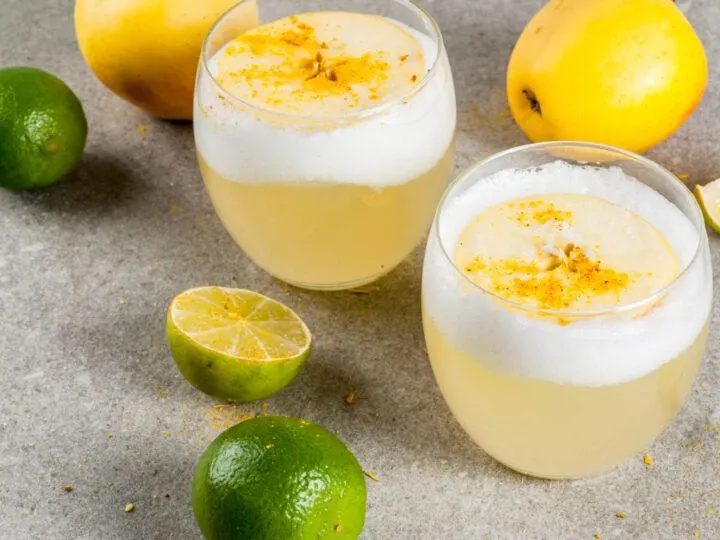 The extremely popular pisco sour cocktail is found everywhere and is made with pisco, lemon juice, simple syrup and bitters, topped with egg white. An amazing place to learn about pisco (and of course enjoy a thorough tasting) is Museo del Pisco, with branches in Lima, Cusco and Arequipa.
Inca Kola
Being the innovators they are, Peru of course has created its own distinct soda, Inca Kola. Although quite unique, its flavour could be described as akin to cream soda but with a bubblegum aftertaste. Even if you're not a fan of fizzy drinks, Inca Kola is worth a sip to at least say you've tried it!
Chicha Morada
A traditional non-alcoholic beverage made with purple corn, chicha morada is universally enjoyed. While it can be bought at the store, the best versions are made in small batches at restaurants.
Many restaurants add their own personal touch, but most are made with quince and pineapple peels, cinnamon and cloves. The best chicha morada is usually found at good ceviche restaurants in Lima.
Desserts
As you may have guessed, Peru also has some delightful original desserts to end the perfect meal.
Mazamorra Morada
Another purple corn creation, this recipe takes mazamorra, a sweet corn soup common throughout Latin America, and substitutes it with purple corn, pineapple, cinnamon and sweet potato flour for a sweet but complex flavour. Virtually every restaurant with a dessert menu offers a version of mazamorra morada, many with their own unique twist.
Picarones
Deep-fried dough at its finest, picarones are Lima's version of the doughnut. Made with squash or sweet potato, they are drizzled in chancaca (molasses syrup).
Picarones are traditionally eaten with anticuchos, and are a popular street food all over Peru.
Suspiro a la Limeña
The 'sigh of the lady of Lima', suspiro a la limeña is a decadent dessert made with manjar blanco, similar to dulce de leche or caramel, along with cream, sugar and almond flour, served in a glass and crowned with meringue.
A popular spot to try out all three of these desserts is Dulces Limeños Anita, in the San Borja District of Lima.
In summary, it would take a long time to fully acquaint yourself with Peru's impressive catalogue of food, but now you have a good idea of what to expect and where to start.
Although this has covered the classics of Peruvian cuisine and the country's most popular dishes, restaurants in Lima are at the cutting edge of innovation, tinkering with recipes or turning them on their head.
After just a short time in Lima, you will quickly understand why foodies from around the world are flocking to Peru to experience what is coming out of their kitchens.
Source: Worldlyadventurer