Four Indigenous children missing in the Amazon jungle for 40 days following the crash of their small plane were found Friday.
"They themselves are an example of survival that will go down in history," Colombia's president, Gustavo Petro, said at a news conference. "Today, those children are the children of peace and the children of Colombia."
It wasn't immediately clear if the children — who ranged in age from 11 months to 13 years — were in good health, and Petro said it would take some times for doctors to make that determination.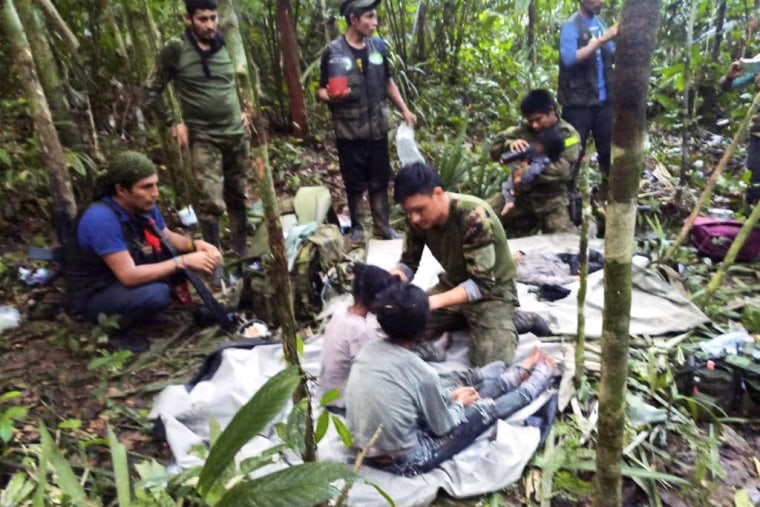 "Their health must be frail," Petro said, speculating that they would need to gradually get back to consuming prepared foods instead of what sustained them in the jungle.
"We need to see into their mental health," he said.
The children, members of the Uitoto Indigenous community, were identified as Lesly Jacobombaire Mucutuy, 13; Soleiny Jacobombaire Mucutuy, 9; Tien Noriel Ronoque Mucutuy, 4; and Cristin Neriman Ranoque Mucutuy, 11 months.
The plane's sole engine failed and it crashed May 1, its nose-first wreckage found more than two weeks later in the Colombian jungle. Three bodies, all adults, including the children's mother, were found at the site, officials said.
But the four weren't there.
Authorities had hope they might be found alive after footprints believed to belong one of the four were discovered in late May. Colombian authorities continued to search for the children using tracking dogs on the ground.
Petro credited the country's military as well as members of Indigenous communities for the miraculous find.
"The work between armed forces and Indigenous communities — who obviously know the jungle better than we do — that work was successful," he said. "Indigenous communities and the military found the children."
Source: NBC